Trucks Scales FAQs
Selecting a Truck Scale: What are my choices and what questions do I need to answer when I ask for a quotation.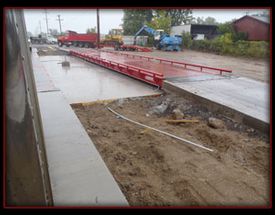 Your salesman should ask you the following questions:
"What will be the size and weights of the vehicles you will be weighing?"
Your answer will determine the length and the capacity of the scale he proposes.
"How much lineal footage do you have in your yard for the scale?"
Your answer will determine whether you can use an above ground scale or a pit type scale.
For example a typical above ground 70' scale will have a 10' level approach and a 25' ramp at each end making the total straight line length 140'. In addition the truck may need more room to make turns if needed. An in-ground scale does not need ramps and does not affect other traffic in your yard. In ground scales, however, cost more to install and have more maintenance requirements.
"How many vehicles will you be weighing per day?"
Determines light, medium, or heavy duty scale.
"Do you prefer a steel or concrete platform?"
There are minor pros & cons to each. Concrete, done right, may wear longer but increases installation time and need to cure before using. Steel needs more maintenance but can be used immediately. Total price is about the same.
"How do you intend to operate the scale?"
If you intend to have a full time scale master in an office next to the scale who can interact with the truck drivers we would recommend a desk top scale indicator and your choice of printer. If you intend to interface the scale with a computer we would make sure that the indicator we recommended had the right number of communication ports and we could recommend the appropriate scale software.
If you require an unintended scale we would quote as needed. An unattended truck scale is designed to allow the truck driver to weigh his load and process his transaction without the need for a scale master. The system utilizes traffic lights to direct the driver, loop detectors, photo eyes, or proximity switches to position the truck, a Kiosk with a keyboard, card reader, or other device to input driver information, a tape, ticket or label printer to provide a hard copy for records. The indicator may have a custom program for data input which will save and distribute the data using Ethernet, serial or radio communication with the network. The scale may have remote scoreboard displays for the driver to see, intercoms for voice communication and cameras for security purposes. These weighing systems are custom designed to match the needs of the customer.
Call AES Scales at 888-237-7225. We will provide free consultation and supply the information you need to make an educated and considered decision.