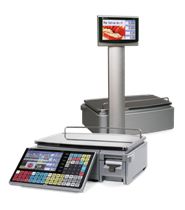 AES has long supplied the areas food markets, delicatessens and other retail outlets with accurate, high quality price computing and labeling scales. Our line of Ishida's Uni-3 Series price computing retail scale has premium-class presets, fast printing speed and more labeling functions—all for less cost than comparable price computing scales with printers.
The complete Uni-7 Series price computing retail scale with printer and color touchscreen comes in a variety of highly-functional models, from bench and pole to hanging and self-serve. The Rice Lake RS-130 and RS-160 retail scales are the ultimate choice for simple price computing applications. Delivering unmatched convenience and accuracy, the RS-130 and RS-160 provide one-button operation with weight displays in either pounds, kilograms or ounces.
It is important that we provide the proper Check-Weigher for your application. There are a lot of things to consider when choosing a Check Weigh Scale and we know what questions to ask.
If you are serious about accuracy, long life, and suitability for your particular application call AES Scales at 888-237-7225. We will provide free consultation and supply the information you need to make an educated and considered decision. We will ensure that the scale you purchase will deliver the results and the longevity you expect. In addition, we will stand ready to provide installation, testing, certifications and service support at your request.