Load Cells and Weigh Modules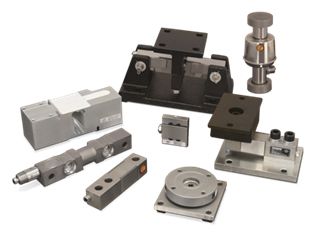 Low-quality, poorly constructed weigh modules and load cells often result in expensive repairs and replacements, costly downtime and dissatisfied customers. So how do you avoid this? More importantly, what should you look for in a load cell or weighing assembly?
Selection involves factors such as working environment and loading conditions. Based on these and other design specifications, AES Scales partners with Rice Lake Weighing Systems' experienced engineering and design staff who has created the most comprehensive line of weigh modules available. Most companies concentrate on one or two types of mounts. We offer over 20 different mount styles, including the industry's only waterproof-guaranteed modules. Coupled with our outstanding selection of load cells manufactured to the highest quality standards, our mounts come complete with everything you need to get started and the unbeatable service support to help you get it done.
The wide variety of weigh modules we source and distribute may leave you wondering what the differences are between certain models and, most importantly, which modules are best suited for your needs. We've broken down our weigh module selection into three application categories. Most operations can be classified into one of these:

Suspended Weighing
Suspended weigh modules support load cells that are hung vertically and measure through tension, such as in suspended hoppers. Available in stainless or mild steel.

Vessel Weighing
Available in either stainless or painted mild steel, Rice Lake carries a variety of models and configurations for weighing tanks, vessels and other fixed containers.

Truck Scale Weighing
These modules are best suited for weighbridge design but meet the needs of a broad range of industrial scale applications.
It is important that we provide the proper Load Cell or Weigh Module for your application. There are a lot of things to consider when choosing a Check Weigh Scale and we know what questions to ask.
If you are serious about accuracy, long life, and suitability for your particular application call AES Scales at 888-237-7225. We will provide free consultation and supply the information you need to make an educated and considered decision. We will ensure that the scale you purchase will deliver the results and the longevity you expect. In addition, we will stand ready to provide installation, testing, certifications and service support at your request.