AES Scales represents many of the world's leading manufactures of scales and weighing systems. We supply state of the art, accurate, durable and dependable products.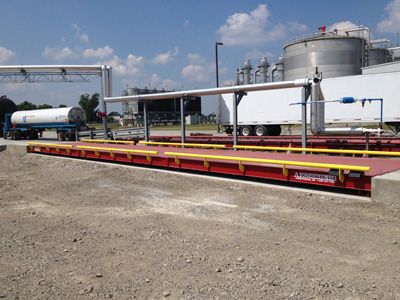 AES Scales, LLC has specialized in providing new and replacement truck scales to business and industry for over 40 years. Since 2000, we have partnered with Rice Lake Weighing systems and their series of "SURVIVOR" truck scales with outstanding results and satisfaction.
We can supply standard "over the road" scales, heavy duty scales for "off road" vehicles, and axle scales off all sizes and capacities. We can also provide replacement scales for any make or model to fit existing foundations. In addition we can customize your scale and your data collection to fit most any need.
If you are serious about accuracy, long life, and suitability for your particular application call AES Scales at 888-237-7225. We will provide free consultation and supply the information you need to make an educated and considered decision. In addition, we will stand ready to provide installation, testing, certifications and service support at your request.
AES Scales offers any type of truck scale you may need.
Standard Over the Road Truck Scales
The bread and butter of the truck scale industry, these scales are designed to weigh the trucks that transport goods all over the country. AES has been providing these scales to industry and agriculture for well over 40 years. Standard truck scales come in various lengths and capacities to match the needs of the customer.
Heavy Duty Truck Scales
These scales are purchased by customers whose businesses demand a high volume of weighments. Some scales receive as many as 300 trucks per day. These scales are designed to handle the traffic and the weight by incorporating additional steel and design features.
Light Vehicle and Low Volume Scales
These scales use less steel and are therefore available at a lower price than standard truck scales. They are sized to fit your truck sizes and capacities so that you receive the best value for your dollar.
Axle Weigh Scales
Axle scales, although not Legal for Trade, are still used as valuable tools for checking axle weights, maximizing loads and avoiding overweight fines.
Off Road Vehicle Scales
Off road scales are used to weigh the big boys. Off road vehicles such as Euclid and Caterpillar earthmovers can be weighed on these custom built extra heavy duty scales with capacities of up to 400 thousand pounds.
Grain Dump Scales
These scales are specially designed to allow grain trucks to dump their loads through an opening on the scale. Being able to weigh and dump at the same time speeds up the process and saves money.
Unattended Truck Scales
An unattended truck scale is designed to allow the truck driver to weigh his load and process his transaction without the need for a scale master. The system utilizes traffic lights to direct the driver, loop detectors, photo eyes, or proximity switches to position the truck, a Kiosk with a keyboard, card reader, or other device to input driver information, a tape, ticket or label printer to provide a hard copy for records. The indicator may have a custom program for data input which will save and distribute the data using Ethernet, serial or radio communication with the network. The scale may have remote scoreboard displays for the driver to see, intercoms for voice communication and cameras for security purposes. These weighing systems are custom designed to match the needs of the customer.
Unique Single Use Scales
Sometimes a customer has an application that will require a special design for a unique specific use such as weighing roll off containers in a limited space. AES can provide solutions for these custom applications.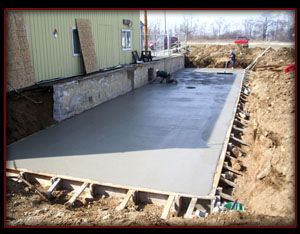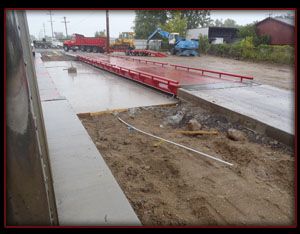 Rice Lake Survivor OTR (Over the Road)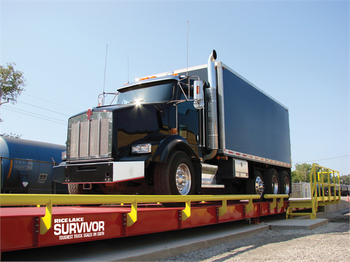 The SURVIVOR OTR Series truck scale is an outstanding design that incorporates the most advanced engineering and production technology to manufacture the highest quality vehicle weighing system in the marketplace. For applications where steel is preferred or downtime is critical, choose the SURVIVOR® OTR Steel Deck. Operational within a day, the easy-to-install SURVIVOR OTR Steel Deck sets the standard for truck scale design and performance, keeping downtime to a minimum. Tightly spaced wide-flange I-beams form the industry's strongest weighbridge design, weighing as many as 250 trucks per day for 25 years without a trace of weighbridge fatigue.
Weighbridge Design
The weighbridge on the OTR steel deck model consists of a diamond checkered steel top plate welded on top of twelve 12-inch wide-flange, 14 pound structural I-beams. The wide flange beam construction helps minimize span deflection and lengthens the life of your truck scale. The beams are positioned longitudinally with the traffic flow, a design based on interstate bridge designs intended to last 100 years. With our longitudinal design, each tire is fully supported by the top plate and a wide flange beam below, eliminating the longitudinal ruts associated with competitive designs that utilize structural shapes instead of heavy bridge iron. In addition, a steel deck weighs less, which makes it easier to move or relocate if necessary.
Load Cells and Mounting System
Each load cell has an individual capacity of 75,000 pounds, compared to only 50,000 pounds in many competitive models. Higher capacity load cells handle heavier loads with far fewer failures. Wire-braided copper transient bypass cables are provided at each load cell mount for individual load cell protection from direct lightning strikes to the scale or weighbridge. Load cells and electronic components have top access through the scale deck, allowing for convenient maintenance, even where space is limited.
Breathing Room Below
The Steel Deck OTR features an open-bottom design. The open-bottom design allows unrestricted airflow, eliminating the cavity where rust-causing moisture can build up.
Durable Finish
All SURVIVOR scales are thoroughly cleaned before painting to remove mill scale, oils or other surface contaminants. An asphalt undercoating is applied to the interior and underside of the entire scale. A high-performance epoxy primer is applied to all steel before the specialized hard-coat alkyd enamel completes the process.
Lightning Protection
Every SURVIVOR truck scale comes complete with a surge voltage protection system. The junction box is provided with individual transient circuitry protection. The entire system is grounded to a single-point grounding system connected to the power ground. With the introduction of single point grounding, you will not experience the loss of load cells associated with other competitive designs.
Easy Expansion
Versatile and cost-effective, the OTR was designed to change with your business. Heavy-duty, self-seating hinge connectors offer easy installation of the pre-assembled modules, and simplify future expansion.
Call today for more information or a comprehensive quote.